Lavatore dispensatore EL406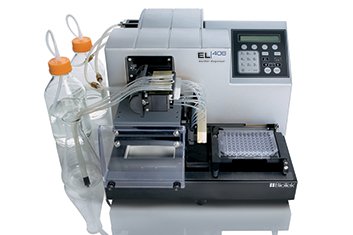 Il lavatore-dispensatore EL406 offre un sistema di lavaggio veloce e completo della micropiastra e tre sistemi di dispensazione in un solo strumento compatto. EL406 rappresenta lo stato dell'arte nella dispensazione e nel lavaggio delle micropiastre standard e delle micropiastre con bead magnetiche o in polistirene. La testata brevettata Dual-Action™,ottimizza le procedure di lavaggio per gli strati monocellulari poco adesi al fondo dei pozzetti, mentre l'Ultrasonic Advantage™ garantisce una manutenzione automatica prevenendo la formazione di intasamenti nei tubi della testata. La pompa a siringa e la pompa peristaltica forniscono entrambe vantaggi specifici e l'EL406 le incorpora entrambe su di una sola piattaforma!

 
applicazioni
Applications for the EL406 Washer Dispenser run from simple dispense operations to full-scale automation of liquid handling steps in preparation for downstream processes. Here are a few important applications of the EL406.
Bead washing
Cell washing /media exchange
Bulk reagent dispensing
Cell seeding

These are just a few examples of the many important applications for EL406. Visit our Applications page to see more.