Caratteristiche software Gen5 per lettori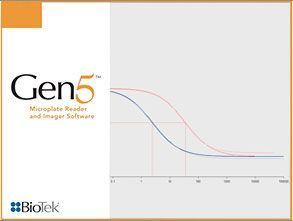 Nuovo! Il software Gen5™ offre potenti funzionalità per la lettura delle micropiastre.
L'utility che permette di visualizzare gli spettri dei fluorofori facilita la selezione dei filtri
Gen5 Software offre una combinazione unica di potenza e semplicità d'uso.
applicazioni
Gen5 Software supports myriad applications, enabled using BioTek microplate readers. From data capture through analysis to export of publication-ready data, Gen5 provides an easy, seamless workflow in an uncomplicated interface.
Data capture from all BioTek multi-mode and single-mode readers
Assays in microplates, Petri and cell culture dishes and cuvettes
Qualitative and quantitative assays, endpoint, kinetic and
EC50 determinations, parallel line analysis, spectral analysis
Micro-volume direct nucleic acid analysis